Vincent Malady is a racehorse trainer at Tylden for Hirsch Racing and also maintains stables at Geelong Racecourse.
Hirsch Park Tylden is a state of the art training facility located in the shire of Macedon Ranges, while Malady Racing Geelong is an on course training facility with access to the picturesque 13th beach Barwon Heads.
The use of both locations gives horses every chance to reach their full potential.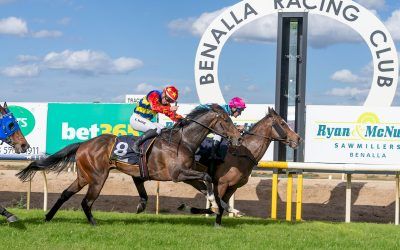 Sebastian The Fox appreciated the drop in grade on a bigger track when he scored at Benalla on Monday. Ridden by Brad Rawiller, the gelding had a charmed run just off the pace and sprinted through on the rails entering the home straight to land the Ryan & McNulty...
read more
Vincent is available to discuss upcoming sales and is more than happy to advise owners when considering purchasing, based on his experience and knowledge in breeding. He will point you in the right direction, attend sales with owners, inspect and discuss your potential purchases when required.
Please fill in the below form to be notified when horses become avaialble.
Upcoming Runners
Recent Winners
| Horse | Date | Race | Margin | Jockey |
| --- | --- | --- | --- | --- |
| Always Hapi | Oct 15, 2023 | 7 - Ballarat | 1.80 | Thomas Stockdale |
| Always Hapi | Sep 13, 2023 | 5 - Sandown-Hillside | 0.20 | Thomas Stockdale |
| Magic Bertie | Sep 02, 2023 | 5 - Warracknabeal | 0.80 | B Rawiller |
| Magic Bertie | Jun 19, 2023 | 5 - BALLARAT SYNTHETIC | 0.10 | B Rawiller |
| Boyfromwye | Jun 16, 2023 | 7 - Geelong | 1.00 | Jarrod Fry |
| Fast Melody | May 25, 2023 | 6 - Kilmore | 0.10 | Maddi Price |
| Lunar Links | May 19, 2023 | 1 - Geelong | 0.50 | B Rawiller |
| Boyfromwye | May 05, 2023 | 3 - Kyneton | 1.50 | Jarrod Fry |
| Guaranteed | Apr 29, 2023 | 6 - Horsham | 0.10 | Liam Riordan |
| Easy Jay | Apr 15, 2023 | 3 - Werribee | 0.10 | Lewis German |
Latest Results
| Horse | Date | Race | Finished | Margin | Jockey |
| --- | --- | --- | --- | --- | --- |
| Fast Melody | Nov 30, 2023 | 5 - Geelong | 6 | 2.20 | Sheridan Clarke |
| Goats On Oats | Nov 28, 2023 | 3 - Bendigo | 2 | 1.80 | Thomas Stockdale |
| Easy Jay | Nov 27, 2023 | 6 - Ararat | 3 | 3.60 | H Coffey |
| Lunar Links | Nov 27, 2023 | 7 - Ararat | 2 | 0.20 | Declan Bates |
| Alice Downs | Nov 27, 2023 | 3 - Ararat | 6 | 8.70 | Fred W Kersley |
| Boyfromwye | Nov 23, 2023 | 8 - Ballarat | 6 | 6.10 | John Allen |
| My Mate Sonny | Nov 19, 2023 | 8 - Donald | 6 | 6.20 | B Rawiller |
| Goats On Oats | Nov 11, 2023 | 2 - Geelong | 4 | 4.60 | Thomas Stockdale |
| Quamby | Nov 11, 2023 | 2 - Geelong | 8 | 9.60 | B Rawiller |
| Guaranteed | Nov 11, 2023 | 5 - Geelong | 13 | 5.70 | Harry Grace |